Beschreibung
CHARAKTERISTIK
SLINGSHOT FREESTYLE
Foiling freestyle is here and Slingshot is leading the way with dedicated freestyle shapes. The NEW Freestyle 115L is the go-to board for wave sailors, freestylers or anybody who demands a centered footstrap position for full control of both rails. The thick skimboard shaped outline packs a ton of volume in a compact size. The Freestyle offers easy uphauling and plenty of float to get you up on the foil in the lightest breezes. Featuring both a Tuttle box and track mount, the Freestyle 115 allows you to attach almost any foil and place the lift exactly where your style dictates. A centerline 3-footstrap option provides for controlled wave riding and switch stance freestyle moves. Opting for the more outboard, 4 strap configuration provides great upwind and downwind angles.
The Freestyle 87 is the board for dedicated foilers who want to foil even when the trees are trembling. The super compact skim board outline can handle blasting wind speeds while giving you a direct-to-foil feeling with no noticeable swing weight. Big enough to get going in 5.0 conditions the Freestyle 87 is the choice for smaller maneuver oriented riders or anyone who plans to foil as when its windy enough for fun classic windsurfing. Like its bigger brother the Freestyle 115 has both track mount and Tuttle box in the tail, allowing you to mount industry standard Tuttle foils along with the tunability of a sliding track mount.
FEATURES
Welche technischen Features finde ich am und im FREESTYLE?
Alle 2020 Slingshot Foilboards sind im Vergleich zu Ihren Vorgängern deutlich leichter und reaktiver geworden.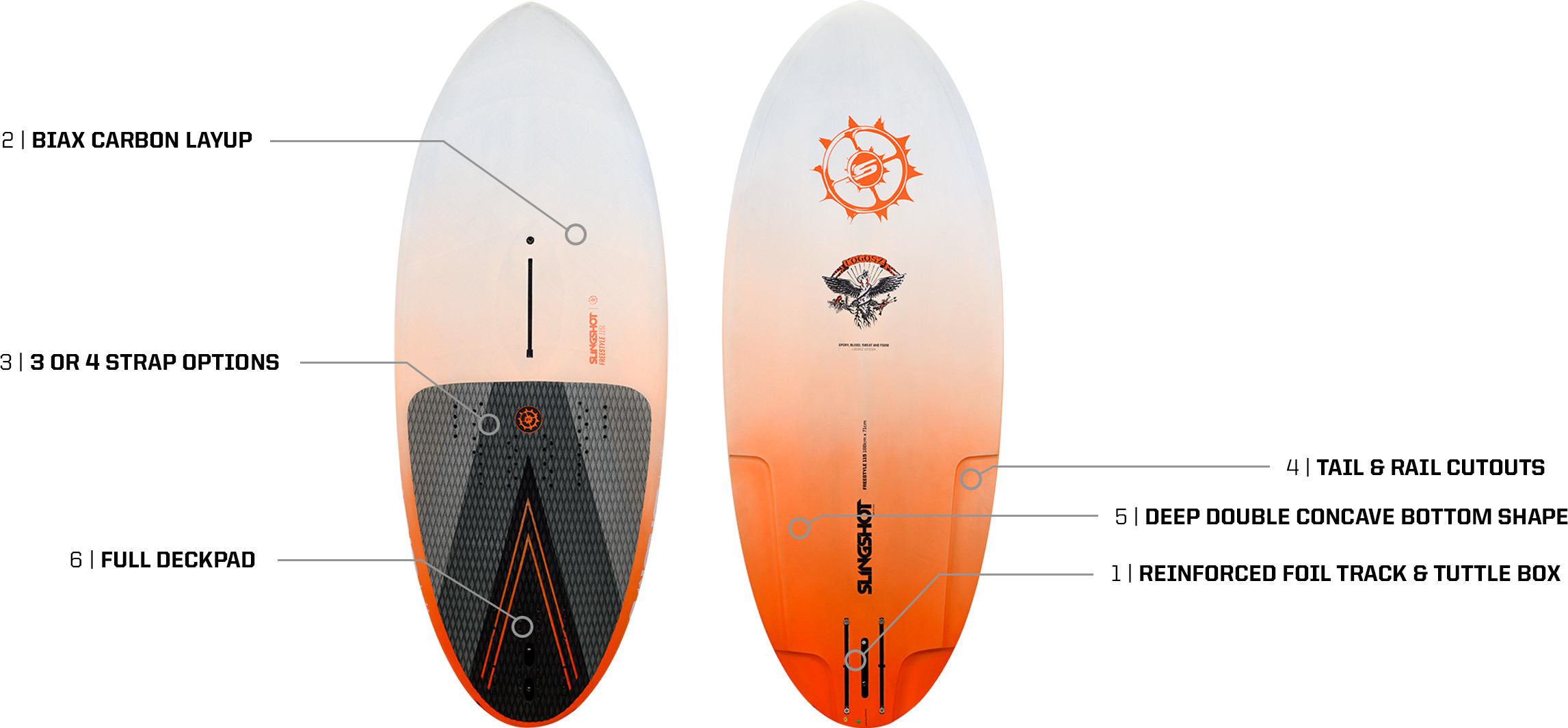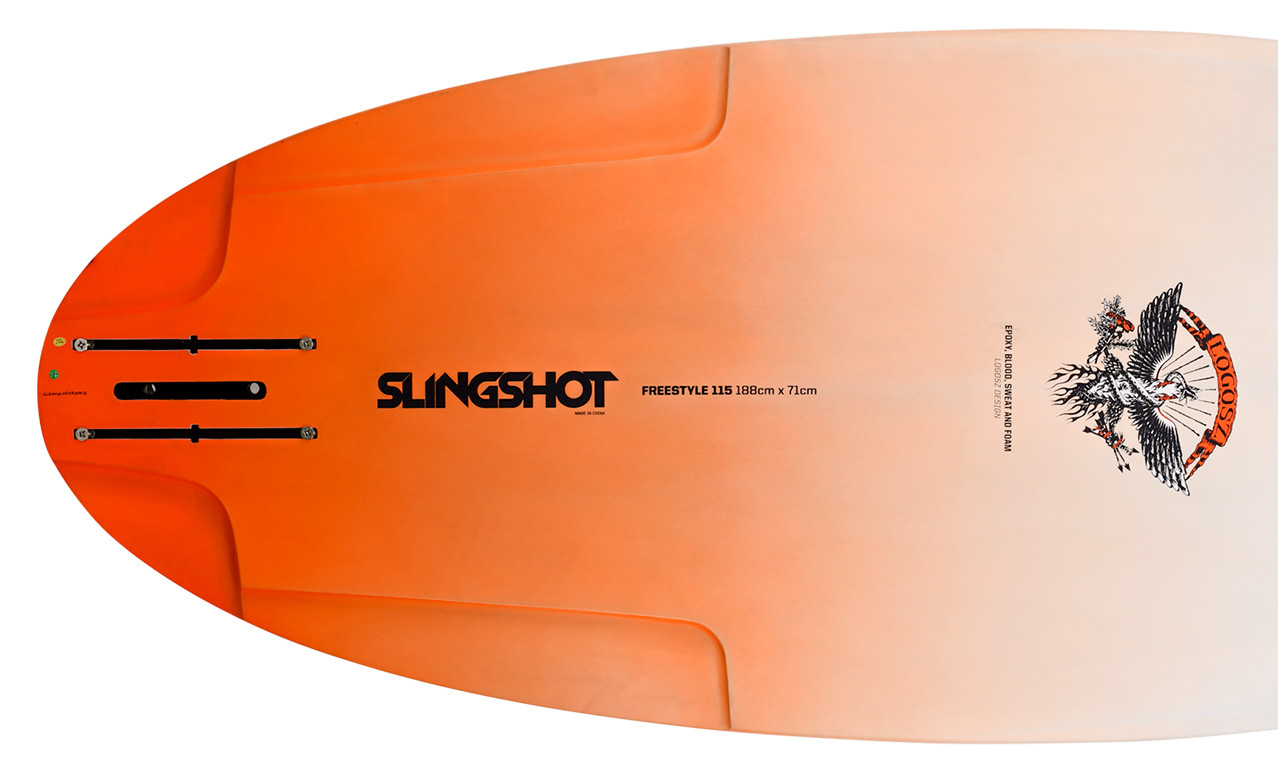 1 | REINFORCED FOIL TRACK & TUTTLE BOX
Built tough to take all the force a foil can leverage. All the boxes are set into PVC block which is tied into the double T-Stringses providing I-Beam strength. The dual track and tuttle systems allow you to mount just about any foil and precisely place the center of lift for your riding style.
2 | BIAX CARBON LAYUP
We start with an ultra light EPS foam core wrapped with higher density PVC foam. A PVC Carbon stringer runs down the middle of the boards, combined with glass wrapped T-Stringer to either side providing I-beam strength. Covered top and bottom with Biax Carbon.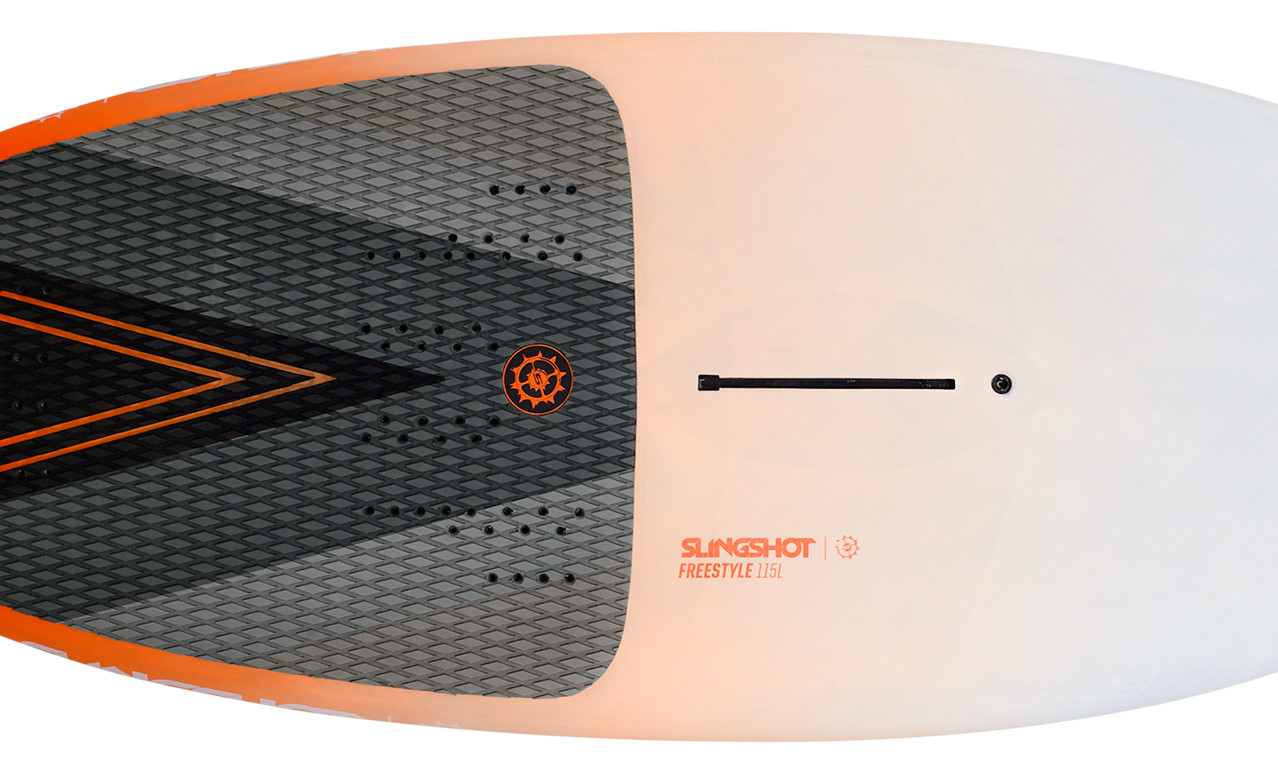 3 | 3 OR 4 STRAP OPTIONS
Whether you demand inboard straps for wave-riding and radical maneuvers or outboard straps for insane reaching ability. Strap it up to suit your style.
4 | TAIL & RAIL CUTOUTS
Allow for early planing release when you are trying to break free of the water and onto the foil.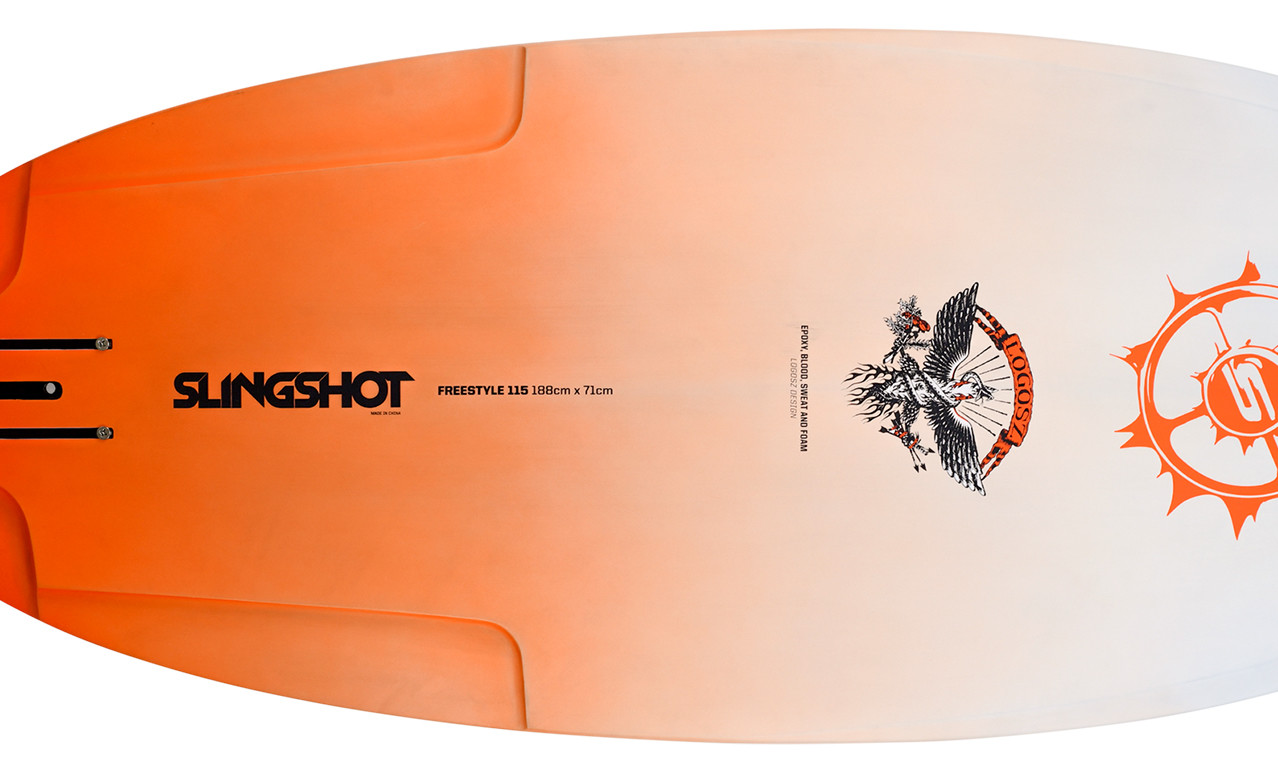 5 | DEEP DOUBLE CONCAVE BOTTOM SHAPE
Displacing water on touchdown for smoother re-entry no matter how hot you are coming in.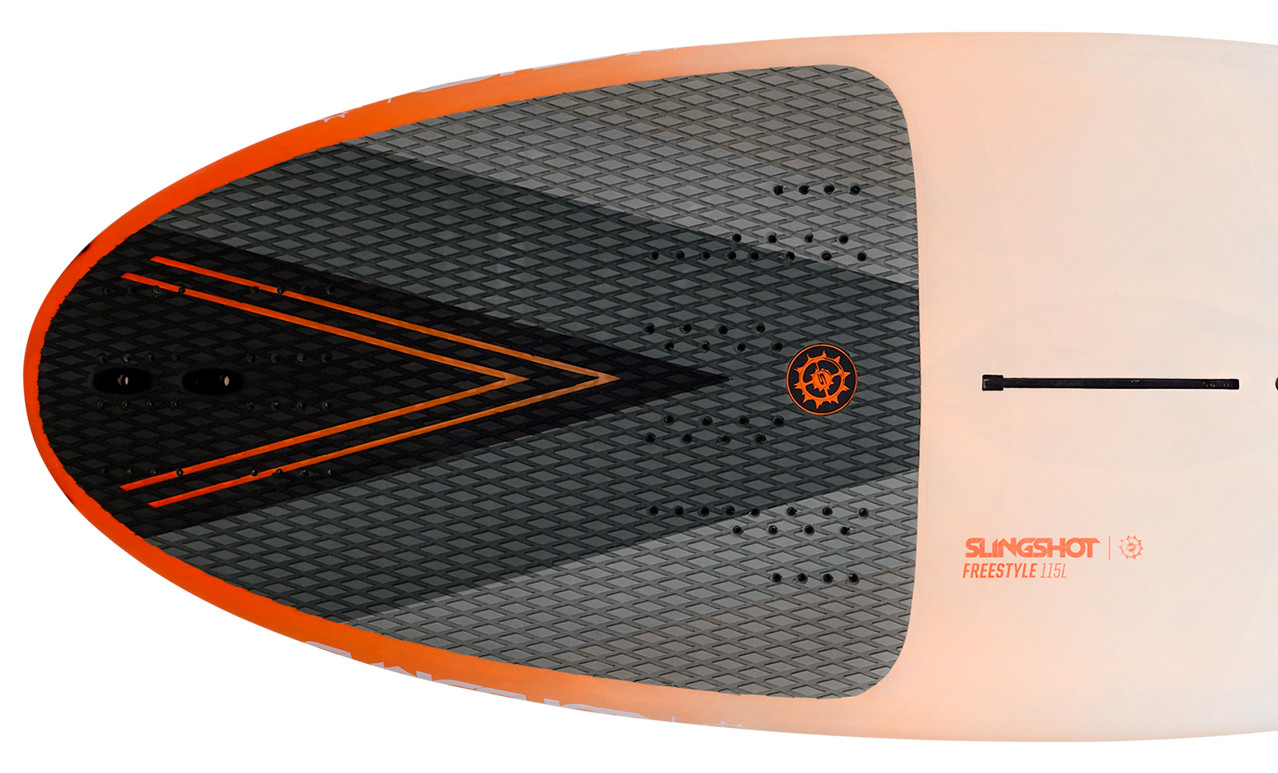 6 | FULL DECKPAD
Our Cushy EVA foam deckpad covers the whole tail of the board so no matter where your Hula dance takes you, your feet will be feeling fine!





TECH SPECS
| | | | |
| --- | --- | --- | --- |
| Länge (cm) | 172 | 188 | |
| Breite (in) | 69 | 71 | |
| Dicke (in) | 12,7 | 13,5 | |
| Volumen (l) | 87 | 115 | |
| Gewicht (kg) | 7,3 | 8,2 | |
LIEFERUMFANG
Was gehört zum Lieferumfang des FREESTYLE?
PRODUKTTESTS
SLINGSHOT FREESTYLE Produkttests:
Auch bei unabhängigen Testern und Magazinen konnte das FREESTYLE bereits seine hervorragende Performance unter Beweis stellen.