Beschreibung
CHARAKTERISTIK
SLINGSHOT LEVITATOR
The Levitator is a high-volume board designed to make your journey into the amazing sport of windsurf foiling as easy and fun as possible. With tons of volume for its length, the Levitator provides early planing and easy uphauling while remaining nimble and agile once you're up and cruising. In light wind or when you're learning, the buoyancy and stability to uphaul with ease and pump yourself up to speed to get on-foil will make all the difference in your success and progress. This is a board designed to get you up, foiling and having fun as quickly and easily as possible.
Confident learning and progression is where your windsurf foiling journey starts. The Levitator's high volume design and longer nose makes it best in class for learning to foil. Eliminate uncertainty and gain confidence while you're in the touch and go phase. Once you are foiling, the Levitator will let you take your foil upwind, downwind and at all points of sail all while being balanced on your foil. And if the wind comes up, you can sail it like a freeride board.
FEATURES
Welche technischen Features finde ich am und im LEVITATOR?
Alle 2020 Slingshot Foilboards sind im Vergleich zu Ihren Vorgängern deutlich leichter und reaktiver geworden.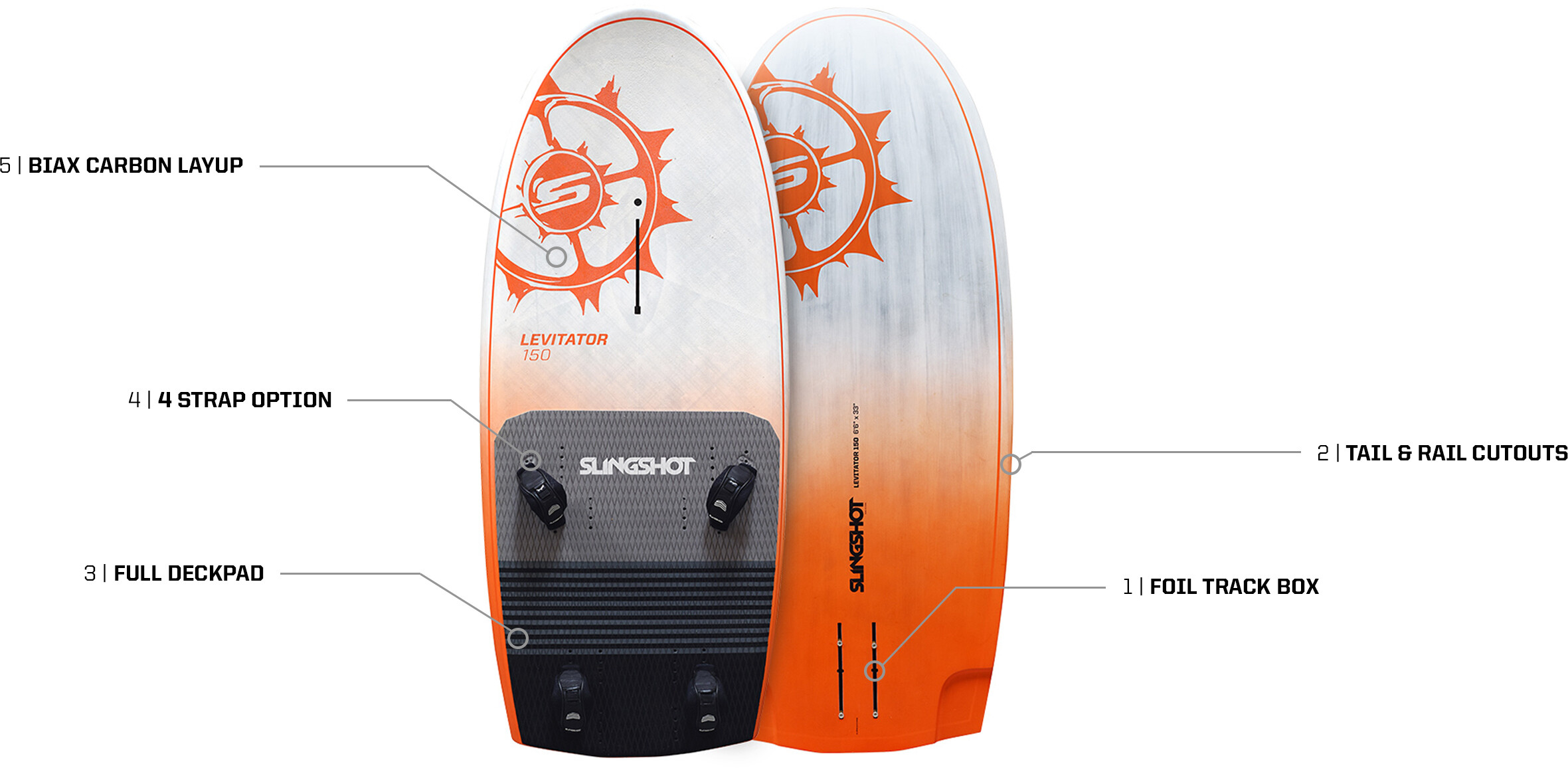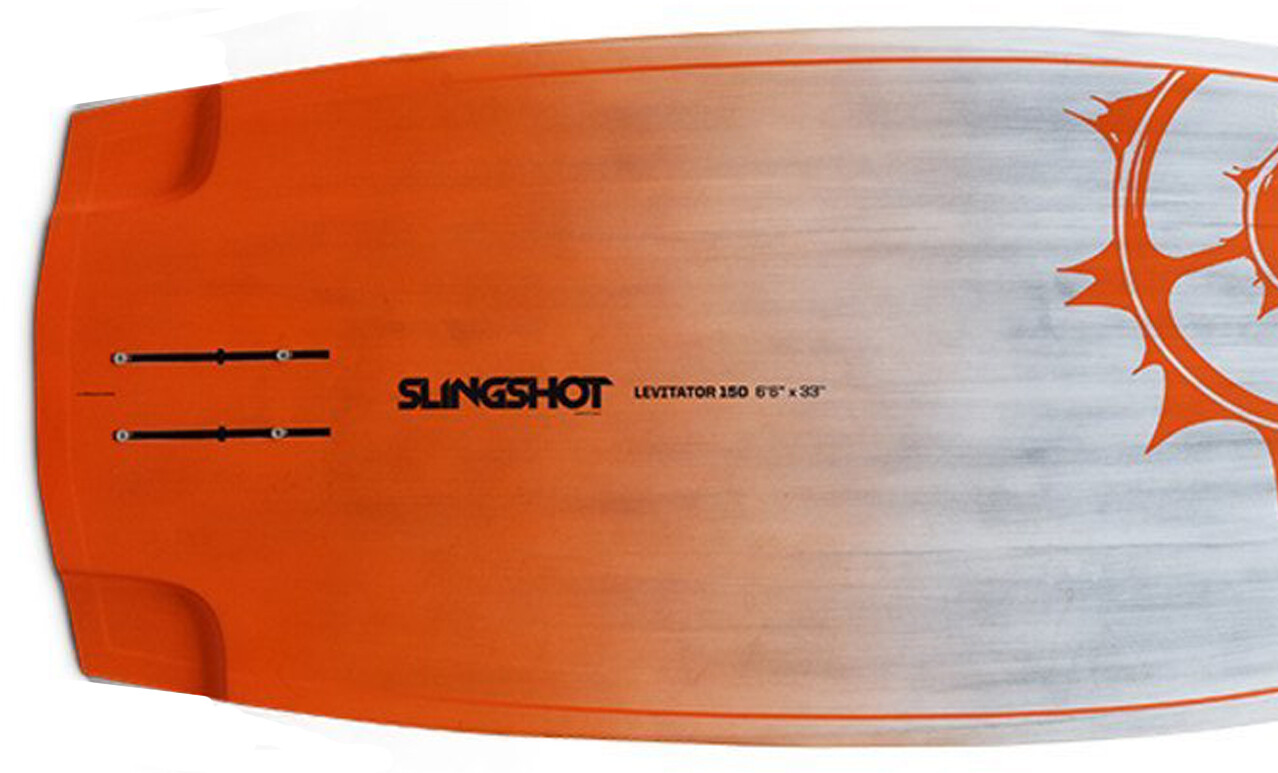 1 | FOIL TRACK MOUNT
Allows you to slide your foil forward and aft on your board to fine-tune how it feels and performs based on your size, ability and personal preference.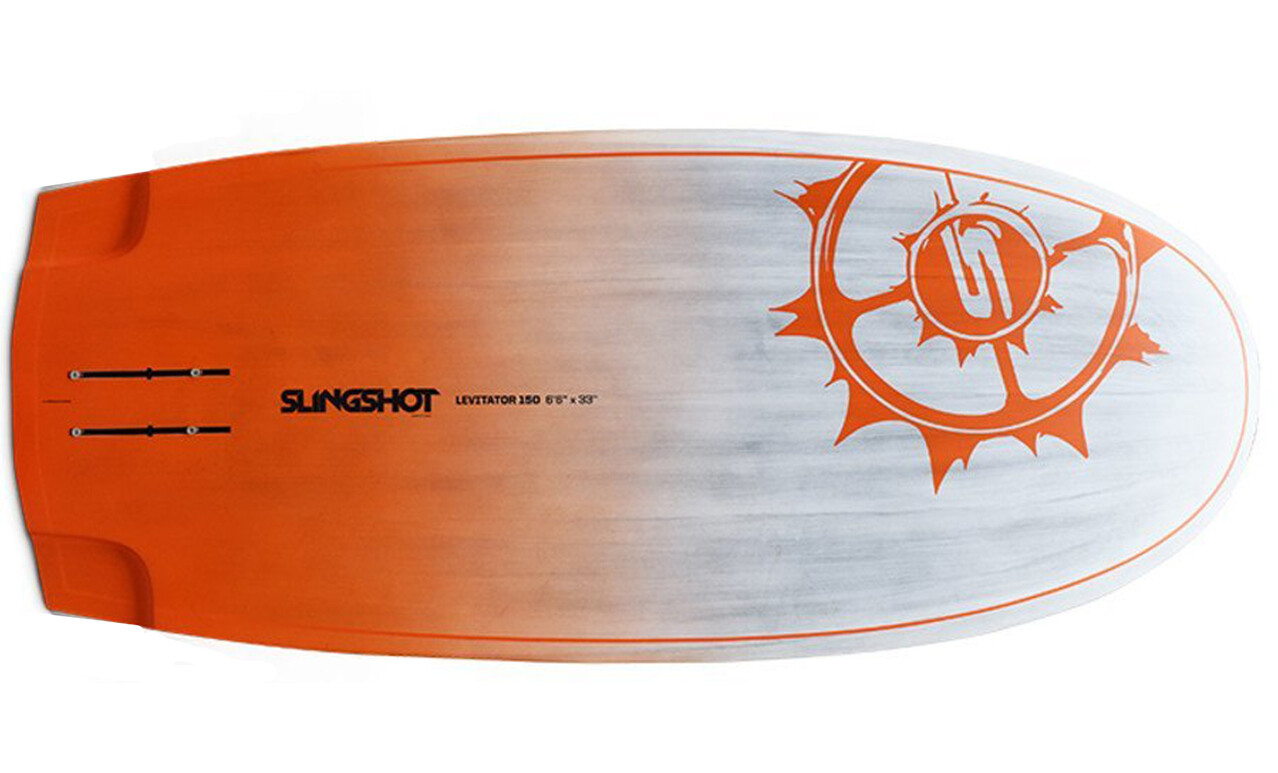 2 | TAIL & RAIL CUTOUTS
Allow for early planing release when you are trying to break free of the water and onto the foil.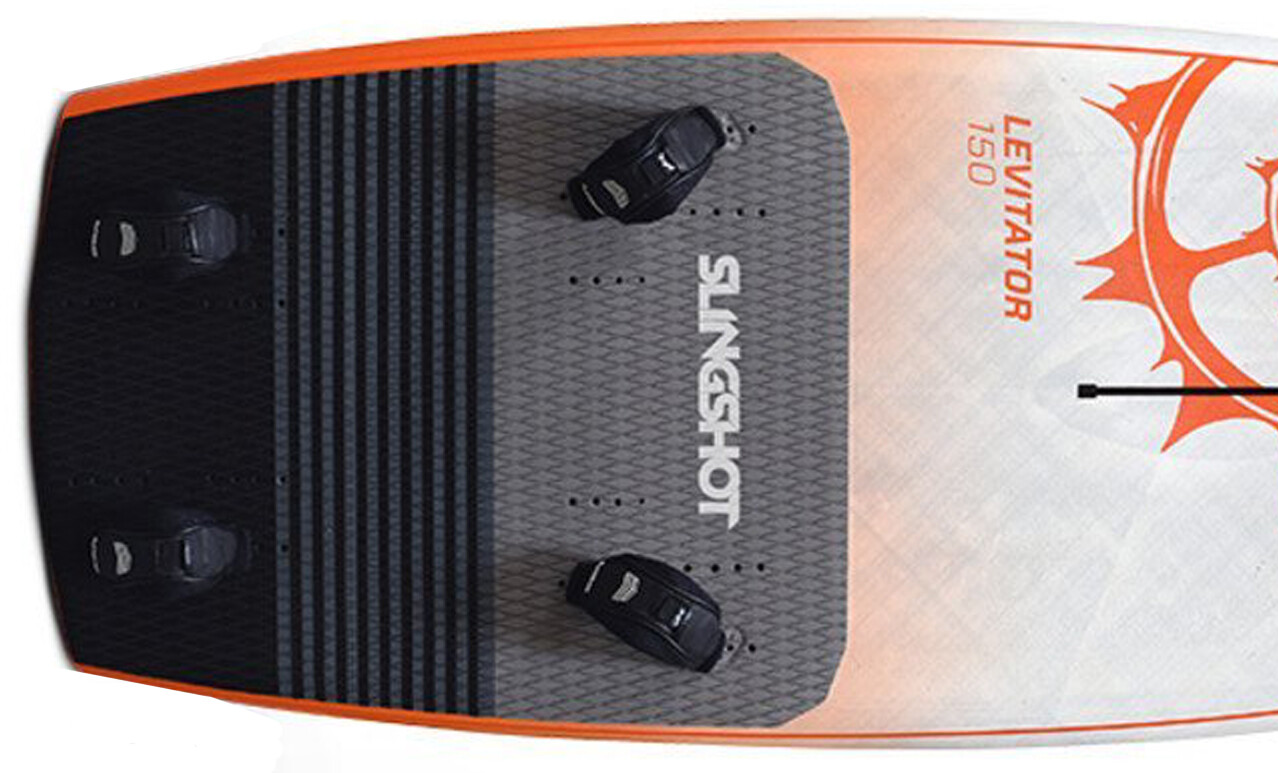 3 | FULL DECKPAD
Our Cushy EVA foam deckpad covers the whole tail of the board so no matter where your Hula dance takes you, your feet will be feeling fine!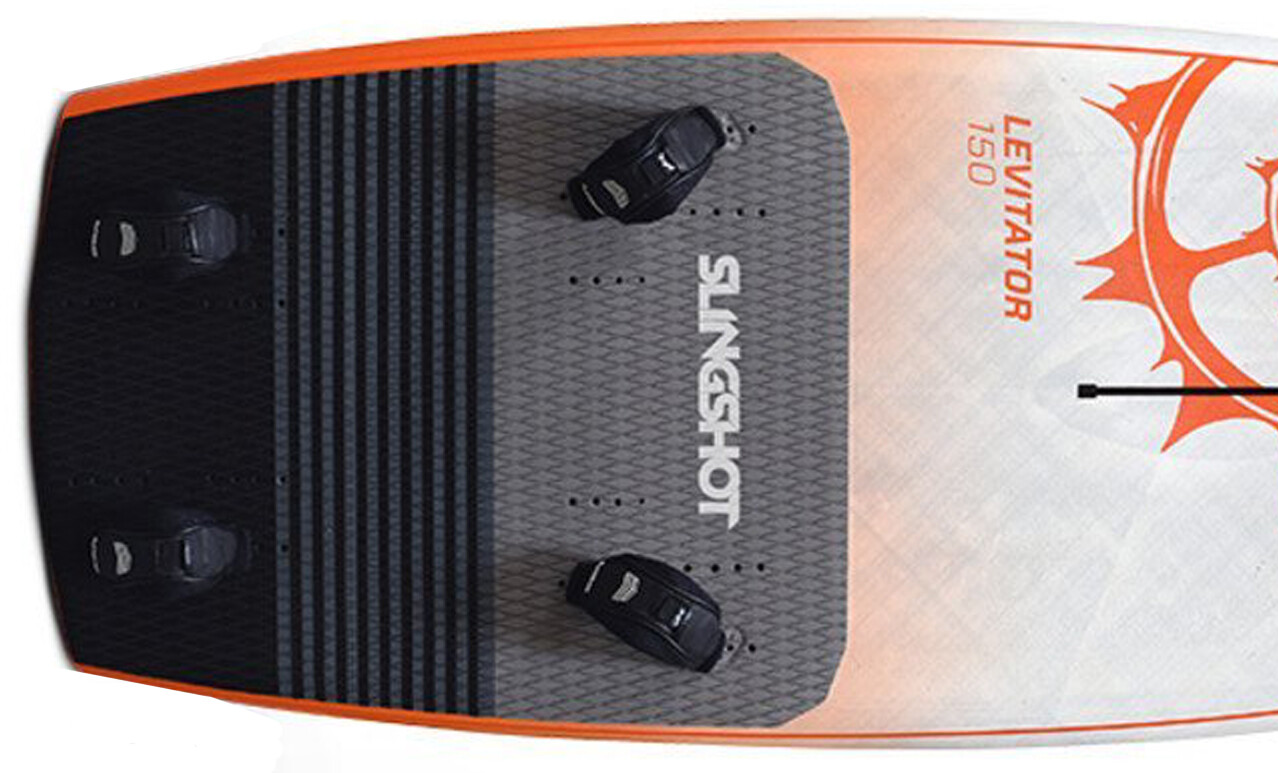 4 | 4 STRAP OPTIONS
4 outboard strap options for insane reaching ability. Strap it up to suit your style.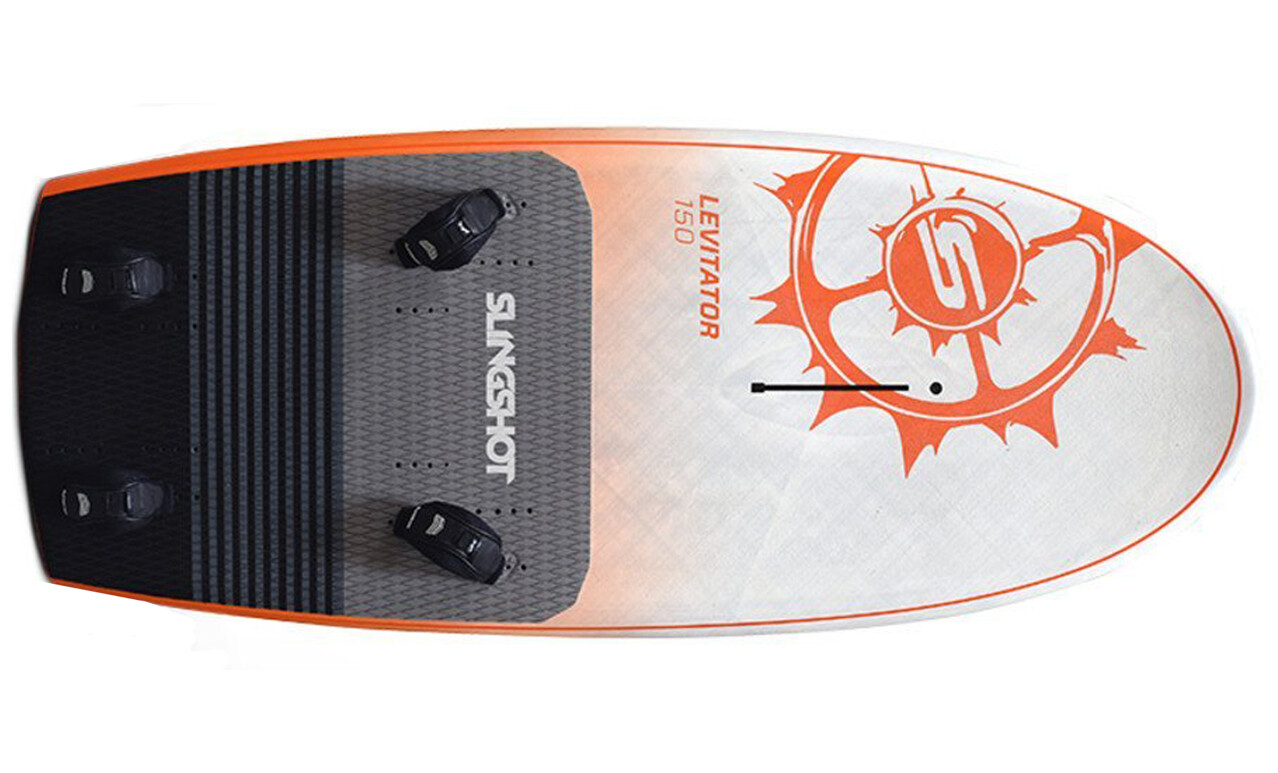 5 | BIAX CARBON LAYUP
We start with an ultra light EPS foam core wrapped with higher density PVC foam. A PVC Carbon stringer runs down the middle of the boards, combined with glass wrapped T-Stringer to either side providing I-beam strength. Covered top and bottom with Biax Carbon.




TECH SPECS
| | | | |
| --- | --- | --- | --- |
| Länge (cm) | 198,12 | 213,36 | |
| Breite (in) | 83,82 | 76,2 | |
| Dicke (in) | 11,43 | 11,78 | |
| Volumen (l) | 150 | 160 | |
| Box | Foil Track Box | Foil Track Box | |
LIEFERUMFANG
Was gehört zum Lieferumfang des LEVITATOR?
PRODUKTTESTS
SLINGSHOT LEVITATOR Produkttests:
Auch bei unabhängigen Testern und Magazinen konnte das LEVITATOR bereits seine hervorragende Performance unter Beweis stellen.