Beschreibung
WF-2
V4


FOIL // SURF // VERSATILE
As the trend in foiling continues to move towards shorter boards, we redesigned the WF-2 V4 foilboard to pack the same amount of surface area into a shorter board length. At 4'6" the WF-2 V4 is an excellent choice for all levels of foilers, has foot strap inserts and is the best traditional wakesurfing shape we've ever produced for those interested in removing the foil for traditional surf sessions. The board features an aggressive nose rocker designed to increase forgiveness when touching back down to the surface in the early stages of foil progression, and the shorter length allows advanced foilers to pump more aggressively without concern of unintentional contact with the water.
FEATURES
Die Anforderungen an Boards verändern sich rasend schnell. Das WF-2 wurde von uns geschaffen, um mit breiter Brust an die Erfolge seines Vorgängers anzuknüpfen und ebenso wegweisende Impulse für die Weiterentwicklung des Sports zu setzen.
HARDFACTS ZUM WF-2 V4
You'll love the WF-2 V4 because it's the one board that works for everyone— wakesurfers, first-time flyers and expert foilers alike.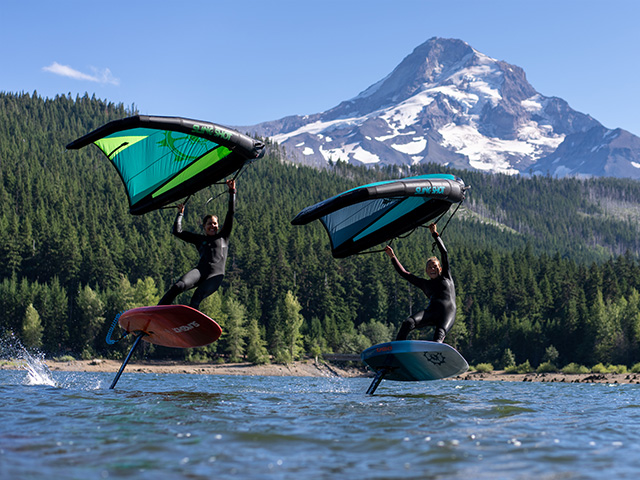 EINSATZBEREICH
Pures Foil-Feeling: Das Wizard V3 mit 90 Liter Volumen ist darauf ausgelegt, dir das direkteste Fahrgefühl für dein Foil zu liefern und trotz kompakter Abmessung mit guter Kippstabilität zu überzeugen. Die goldene Mitte der Wizard-Range: Der Wizard 114 bietet Agilität und ein kompakteres Feeling als mit der 130-Liter-Version, aber ein deutlich besserer Leichtwind-Takeoff als bei der 90-Liter-Variante. Für alle, die maximale Kippstabilität und einen frühe Takeoff wünschen, als auch für schwere Fahrer, ist die 130l Ausführung des Wizard V3 die optimale Wahl.